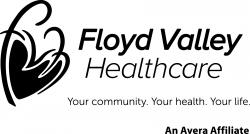 Respiratory Technician
2020-01-30 Floyd Valley Healthcare 714 Lincoln St NE
Description:
Floyd Valley Healthcare has a full-time opening for a Certified Respiratory Therapy Technician (CRTT).  This position is responsible for the delivery of respiratory therapy services and its subdivisions to provide a level of patient care equivalent to the level of care available through the institution. Must be a graduate of the A.M.A. approved training program, credentialed by NBRC with a current state of Iowa license. Must have at least 3 years experience in a hospital/emergency room setting in addition to experience with EKG & treadmills is preferred.
Floyd Valley Healthcare offers an excellent benefits package for qualifying employees that includes IPERS retirement; medical, dental, vision, life, and disability insurance; fitness center; paid time off and more! Come join the team at Floyd Valley Healthcare and start making the difference in the lives of others.
Apply online at www.floydvalley.org.
Background check required.
EOE F/M/V/D/SO
Do not contact this company in solicitation of any product or service.