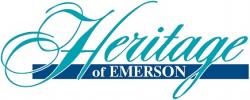 RN or LPN Charge Nurse
Featured
2019-02-21 Heritage of Emerson 607 Nebraska Street / Emerson $15 - $27 hour
Description:
WEEK DAYs 
If you've got a passion for excellence and a desire to make a difference in the lives of people, this might be the job for you! The RN or LPN has the opportunity to positively interact with residents, guests, family members and team members daily. RN's/LPN's are passionate about providing the highest quality care possible and exceeding the expectations of those they serve and work with.
Qualified candidates will be Registered Nurses or Licensed Practical Nurse with a current CPR Certification. They will possess high personal integrity, a caring attitude and portray a positive image.
Join a team of highly committed professionals who have the opportunity to do what they do best every day in an exceptional environment where learning and growth is encouraged and supported.
APPLY ONLINE @
www.heritage-emerson.com
Click "Career Center" - Select State "Nebraska" - Select City "Emerson" - Click "RN Charge Nurse" OR "LPN Charge Nurse"
EMAIL: shuggenberger@vhsmail.com
PHONE: 402.695.2683
Do not contact this company in solicitation of any product or service.