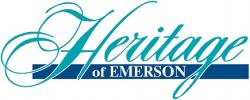 Maintenance Supervisor
Featured
2019-02-21 Heritage of Emerson 607 Nebraska Street / Emerson $16 - $20 hour
Description:
Are You a "Jack of all Trades - Master of None"?  We Need You!
If you've got a passion for excellence and a desire to make a difference in the lives of people, this might be the job for you! The Maintenance Supervisor has the opportunity to positively affect the lives of people every day! This vital position plays a big role in our day to day operations by providing building and grounds maintenance support.
Qualified candidates will have practical maintenance or related experience as well as leadership experience. They will possess high personal integrity, a caring attitude and portray a positive image.
Join a team of highly committed professionals who have the opportunity to do what they do best every day in an exceptional environment where learning and growth is encouraged and supported.
APPLY ONLINE @
www.heritage-emerson.com  
Click "Career Center" - Select State "Nebraska" - Select City "Emerson" - Click "Maintenance Supervisor"
EMAIL:  shuggenberger@vhsmail.com
PHONE:  402.695.2683
Do not contact this company in solicitation of any product or service.